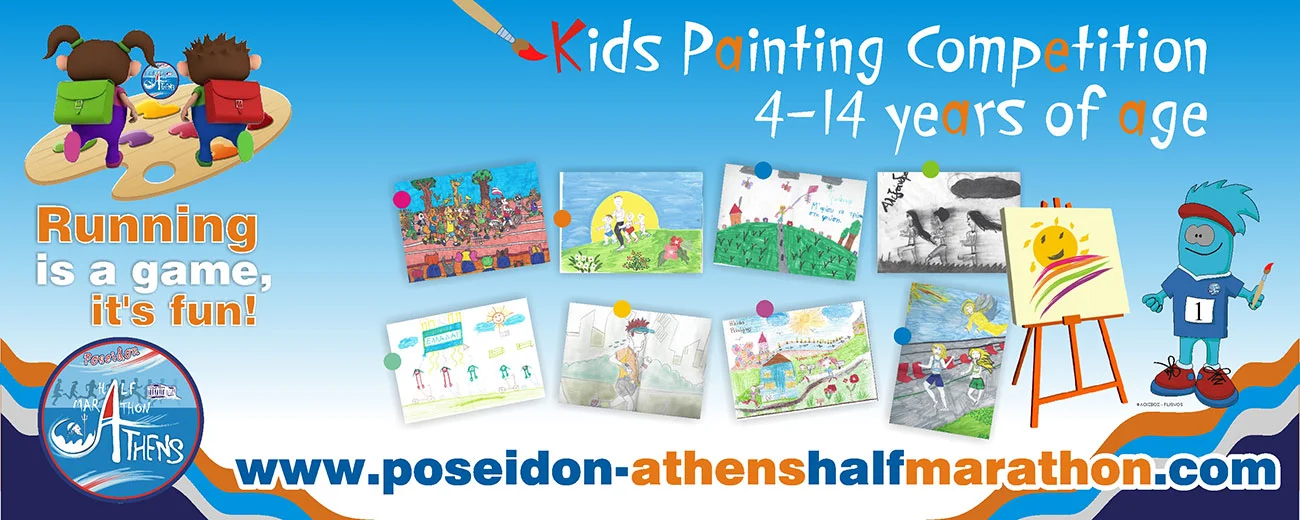 Hello, young runners!
The organizers of the Poseidon Half Marathon are inviting you to participate in "The New Panhellenic Painting and Drawing Competition".
Children between the ages of 4 and 14 can participate. All the paintings and drawings will appear on the site of the Poseidon Half Marathon. The paintings and drawings which will be chosen will be printed on postcards and some of them on T-Shirts. The paintings chosen will participate from time to time to one or more exhibitions.
How to participate
The subject
The subject of the competition is "Running is a game, it's fun!" "Running with our friends is an even greater joy!"
Draw or paint your gymnastics lesson or images from some race you have already participated in.
If you like, paint yourselves, your friends, your mum, your dad, your grandma or your grandpa, your aunt, your uncle, your cousins, your schoolmates, your neighbors or people you have been running together as a group.
Older children can make collages with photos, words, quotes from newspapers and magazines. Thus, they can also make their ideas reality.
Dimensions and Materials
The art work must be drawn on an A4 minimum to A3 paper maximum. Each child can submit up to two paintings. The choice of materials or genre is free.
How and where will the children's art work be sent:
Download the participation form in PDF "here" or from the site.
Painting and Drawing Competition for children

TROCADERO SPORTS AND CULTURE
Panhellenic Painting and Drawing Competition
ΤΘ 3322 - ΤΚ 10200 - ATHENS


Participation period
Until March 30, 2023 or earlier if 1.000 participations have already been sent.
Winners
The art works will be divided into two competition categories according to age: 4-8 and 9-14. Winners will be selected from both categories.
A panel of specialists will evaluate the art works in three stages: first, second and third.
The winners will be chosen by lot from all those that have reached stage 3 in the evaluation process.
The winners will be notified by mail and their names will appear on our website.
Coordinator: - email: This email address is being protected from spambots. You need JavaScript enabled to view it.This email address is being protected from spambots. You need JavaScript enabled to view it.
Contact:
Participation rules: please note that all prints and images created in connection with this painting competition (including photos, videos, participants' interviews on the radio, television, newspapers and magazines, copies of photos on film or videotapes, etc.) can be published by the organizers without any demand for compensation.